Power and Love, A Theory and Practice of Social Change
Adam Kahane (2010), Berrett-Koehler Publishers Inc.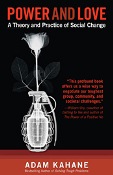 We very much enjoyed Kahane's earlier book Solving Tough Problems, An Open Way of Talking and Listening to Create New Realities (2004) where he presented case studies and stories of how groups of people, working with seemingly intractable problems, were able to create new social realities.  Whether it's reconciliation following civil war, working with children orphaned by the HIV virus in Africa or re-designing the food chain to make it fairer for all, Kahane highlights the importance of individuals opening up themselves to connect with self and others, to the context, and to what the issue demands.  His experience since then has highlighted the need to also grow.
Power and Love outlines his insights about the need to reconcile power, the drive to achieve one's purpose, to get one's job done and to grow with love, which incorporates the drive to re-connect, and make whole that which has become, or appears fragmented.  The challenge is to work with these two fundamental forces, in tension, to co-create new social realities.  The assumption that it's possible to pursue one's own best interests, be it individual, business or nationally and produce benefits for society as a whole is being called into question. 
Kahane also analyses some of his disappointments about projects which failed to achieve their objectives.  At times this appears self-indulgent, and to the reader disappointing, particularly when these projects appeared so full of possibility for large scale change.  And yet, there is courage in admitting that leading systemic change projects is challenging and that many end in failure.  He points out that failure may not be the end, it may simply provide the opportunity for re-forming and re-creating the purpose or container for a further iteration of the work at a later date.
Kahane's insights are worthy of further thought and reflection by us all as we consider our lives and our work, and what's working or not working.  Having read the book, the identification of power and love in our everyday work and personal lives will be inevitable, at both the generative and degenerative levels.  We have a number of current examples which seem to highlight these tensions, including the international financial crisis, the challenge laid down by the actor's union to the makers/funders of the Hobbit movies and perhaps even the outcome of the recent Auckland City mayoralty election where one candidate appeared to represent an approach underpinned by power, and the winner, Len Brown, who appears to offer more of a balance between the two.